Dia 30 de setembro de 2020, às 18h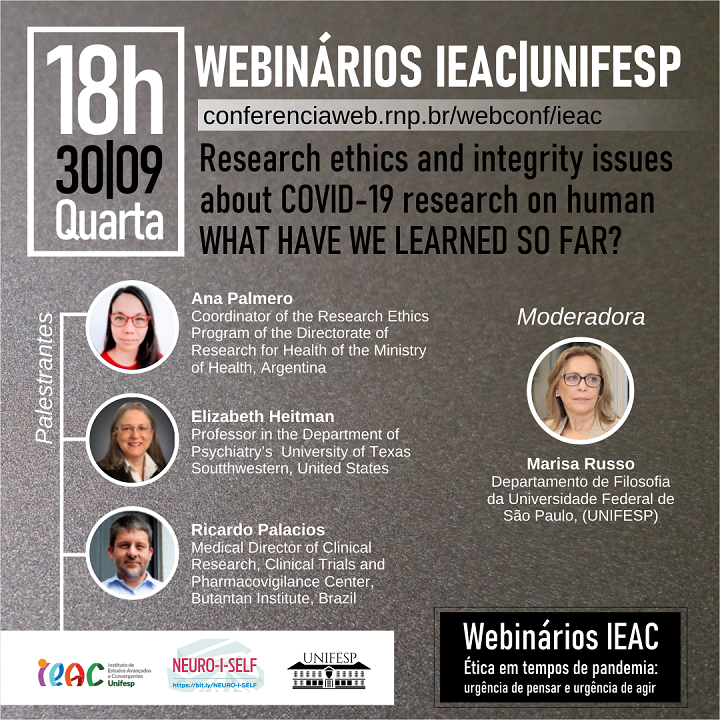 No contexto dos webinários IEAC/Unifesp sobre Ética em tempos de pandemia, este evento patrocinado pela BRISPE abordará questões relativas à ética na pesquisa por ora realizada em torno da covid-19.

Palestrantes: Ana Palmero, coordinator of the Research Ethics Program of the Directorate of Research for Health of the Ministry of Health, Argentina; Elizabeth Heitman, professor in the Department of Psychiatry's University of Texas Soutthwestern, United States; e Ricardo Palacios, medical Director of Clinical Research, Clinical Trials and Pharmacovigilance Center, Butantan Institute, Brazil.

Moderadores: Marisa Russo, professora do Departamento de Filosofia da Universidade Federal de São Paulo (Unifesp), e José Roberto Lapa e Silva, professor do Departamento de Clínica Médica do Hospital Universitário da UFRJ.
Serviço:
Research ethics and integrity issues about covid-19 research on human - What have we learned so far?
Data e horário: 30 de setembro de 2020, às 18h
Link de acesso ao webinário
Inscrições